Part-Time Fanboy Podcast:Ep 28 Top Ten Horror Movie Moments-Part Two!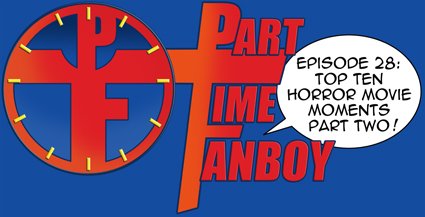 Happy Halloween! Join us for part two of our top ten horror movie moments! Enjoy All Hallow's Eve with Kristian and Paul as they finish their countdown of some of their favorite moments from horror movie history! With a special appearance by Paul's dog!
Click here for part one of this episode! Just in case you missed it!
Part-Time Fanboy. Not Current. Not New. Always Opinionated.
Podcast: Play in new window | Download (Duration: 53:30 — 49.0MB)