About Us
Kristian Horn
Discovered as a babe in an abandoned comic book storage box and bitten by a radioactive comic fan when he was a teenager, Kristian Horn is the Founder/Editor/Producer of Part-Time Fanboy.
Initially Part-Time Fanboy began as a small blog for Kristian to publish his random thoughts about geek news. It quickly developed into something else when he realized how much he loved talking with his friends on the phone about comics, movies, TV shows, etc. The idea to record these conversations and put them out into the interwebs nailed him like a thunderbolt while stuck in Los Angeles traffic one day and thus the Part-Time Fanboy Podcast was born!
Kristian has been a contributing writer and interviewer for the Ain't It Cool News comic book section and is a sometime cartoonist and designer. Some of his work can be seen at his website (which really needs to be updated) www.kristianhorn.com. He's also acted in some really bad movies a long time ago so the less said about that the better.
Kristian works as an Online Media Producer for a large multi-media/retail company which he won't name here and lives in Reseda, California with his wonderfully tolerant wife and daughter.
You can contact Kristian by e-mailing ptf@parttimefanboy.com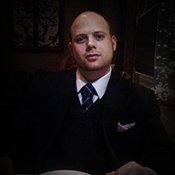 Ian Scheller
Ian Scheller is fascinated with the many different facets and workings of the human individual, society, its systems, and the normal and abnormal behavior that governs the daily functions of our existence on this planet, and in specific, this current reality.
It is only through great safe experimentation through science, fine art, literature and mathematics that Ian believes he can find wonderful and exquisite meanings for his own presence on earth and his relationship to the world around him.
As King Famous Ian has produced several albums of music with more on the way.  He lives in Los Angeles where he can be seen on drums with The Freedom Ledges, drawing and coloring comics, writing plays, and boxing.
For more on Ian, go to ianscheller.com
You can contact Ian by e-mailing ian@parttimefanboy.com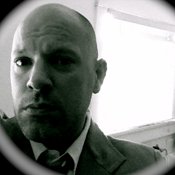 Paul Edwards
Paul Stephen Edwards is an amateur filmmaker who lives in the San Gabriel Valley.  He began creating super 8mm monster movie extravaganzas at the age of 8.  He has acted in films such as Solitaire and Reynard the Fox for Portland's Freeman Brothers.  He is the writer and director of several short films such as Gain, Pershing Square, Chemistry, and most recently RePair.
You can find his Tumblr by clicking here and he's also on Vimeo and Facebook.  He loves being a Part-Time Fanboy and hopes to move up to being Full Time someday.
You can contact Paul by e-mailing paul@parttimefanboy.com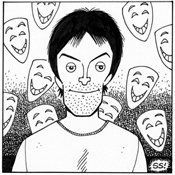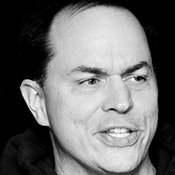 Don Lund
Born in Baltimore, raised in the Rocky Mountain wilderness of Colorado, Don has grappled the concepts of existentialism via the four-color comic book Universes once available on metallic racks that spun in squeaky circles, yielding fantastic serial adventures.
Six years in the United States Marine Corps provided a tough love reality check, followed by a trek through radio broadcast and newspaper journalism and finally a return to the world of comics with a decade of working in and eventually owning a comic shop.
A proud co-founder and former owner of I Want More Comics! www.iwantmorecomics.com in Northglenn, CO and an overlord of the THOR_Fans groups onYahoo and Facebook. He was once a contributor to a number of now defunct webzines, fanzines and magazine re-launches, and is currently content to wax poetic about who is worthy enough to wield Mjolnir, step on Superman's cape and whether Spider-Man should have 'real' web-shooters or not.
Happily married for 26 years to a lovingly supportive, engineering genius, they await holiday visits from their two sons far smarter than their dad. As such, Don has returned to the world of academia as the World's Oldest College Senior.
You can contact Don by e-mailing don@parttimefanboy.com